The following report summarizes observations of water quality and biological productivity for Duck Lake in 2016. The graphs and tables compare last year's findings with those of previous years, as well as with averages for all lakes statewide.

Go to the link shown in red below for a more detailed explanation of the results in mostly non-technical language.

Overall, Duck Lake continues to exhibit desirable conditions, with no indication of excessive nutrient inputs.
These results were generated through the work of a dedicated group of DCWA volunteers. These folks deserve our thanks for their diligence and care in collecting and processing samples and making supporting observations from May through September.
Check out the study done by GVSU students in the Spring of 2016 for their class BIO 402: Aquatic Insects, taught by Prof. Dunn. They examined the aquatic insect populations both upstream and downstream of a bridge crossing in the Duck Creek Watershed.
---Lynn Knopf, Chair
Click on the link below to open a copy of their full report.
The following poster summarizes work on road-stream crossings in the White River drainage. It was accepted by the Stewardship Network for inclusion in its annual conference in Lansing, 13 - 14 January 2017. The work was supported by a grant from MiCorps/DEQ to the White River Watershed Partnership. The individual panels can be viewed by using the "zoom" function in your browser. Contact DCWA Techncial Coordinator Dr. Thomas Tisue at thomastisue@comcast.net to request a copy in PDF format.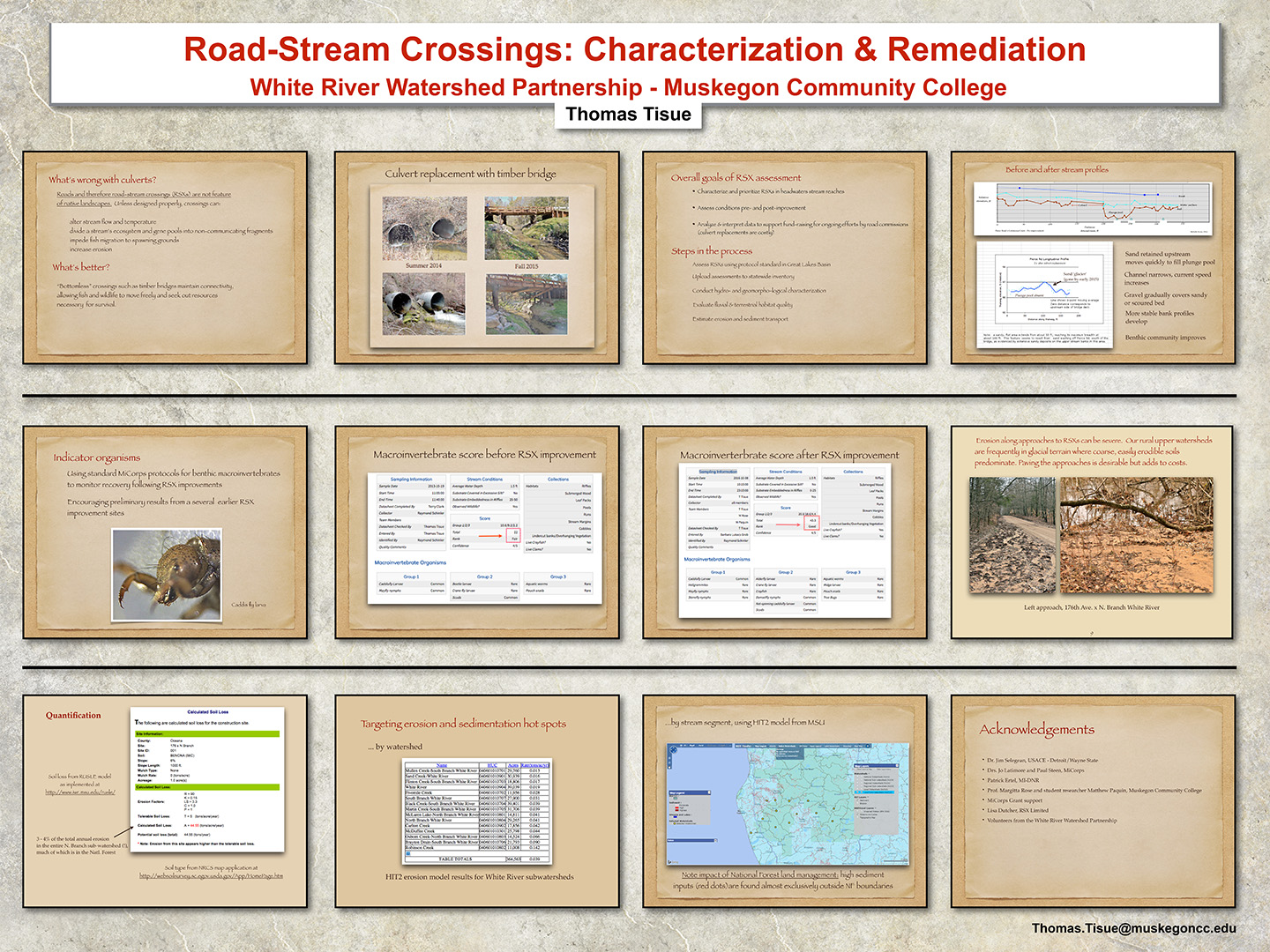 Click on the link below to see preliminary findings from the DCWA Summer 2016 study of sediment transport in Duck and Scholles Creeks. The results show that the upper watershed (above Simonelli Road) is not a significant source of suspended sediment under normal summer conditions, even following rain events.
Are there invasive aquatic species (AIS) in Duck Lake? Yes, but so far only three we know about: Eurasian watermilfoil and its hybrids with native milfoil; and zebra mussels. A comprehensive study by the Michigan Department of Environmental Quality, using a combination of direct observation and genetic testing, pointed to the absence of a suite of 16 potential invaders. Clicking on the link shown below in red will take you to a summary of the results.

Twenty-plus years of monitoring data reflect little change in trophic status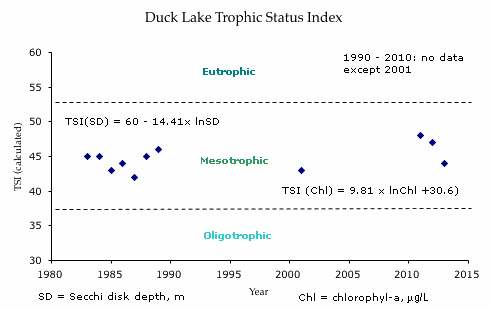 The Trophic Status Index reflects a lake's overall productivity---it's capacity for supporting biomass. The chart demonstrates that Duck Lake has remained mesotrophic (moderately productive) ever since measurements began in the early 1980s.
The lake has proved resilient despite increased use and spreading development within the watershed, without the need for significant management actions.
Continued monitoring will help determine if the lake is remaining in desirable balance.